Herewith a short tutorial with pictures about putting music into the game.Edit
Preparation:
The first thing to do is to create a directory with a sensible name in Skyrim's Music directory, in my case:
Data/Music/Shumer
This is where you put all your music files, they must be in either .wav format or the compressed format .xwm

Note if you don't want to use the CK try this mod Music Personalized Music
Into the CK
First goto the Music Tracks entry in the object window.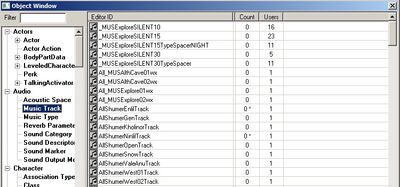 Now create a new Music Track or copy another one and rename, open your new Music Track you will get something like this if you copied a file: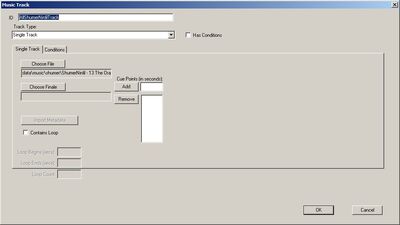 Now click choose file and go to your music directory and select your file. If you are using .xwm you will have to type the first letter to get a list up as below:
Now the track is in the CK we can use it to create a Music Type. Create a new type or copy an existing one: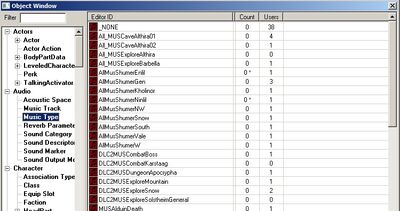 Open the new Music Type, if you copied one, delete the Tracks that are in the panel and then right click and select new. Note you can put as many tracks in here as you like, they will be played on after the other before cycling (if you tick the Cycle Track box):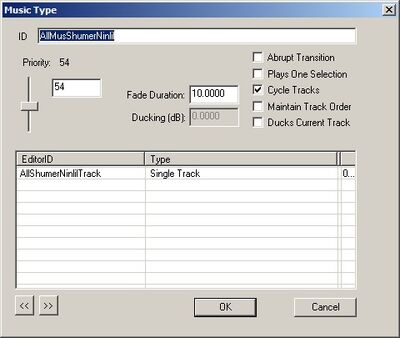 Using Music Types in Game.
There are a number of ways of using Music Types in game; three of these are illustrated below. In each case you select your Music Type in the dropdown boxes for Music.
You can use you Music Type in an Interior Cell: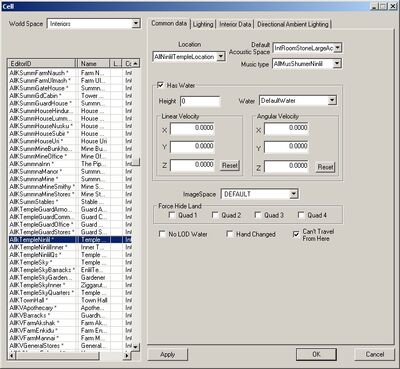 You can use you Music Type for a Worldspace: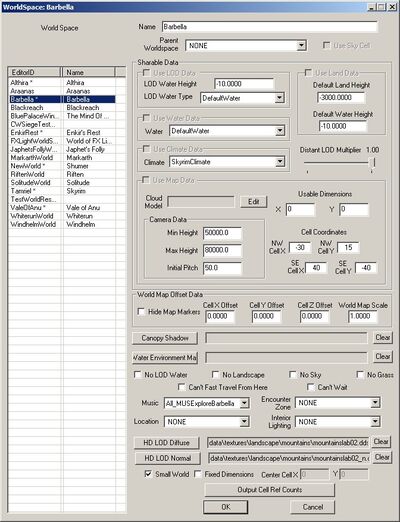 You can use you Music Type in an Region: